Economical
Aerodynamic, Eco-friendly.
Specifically designed to be pulled with modern SUVs, minivans and small trucks.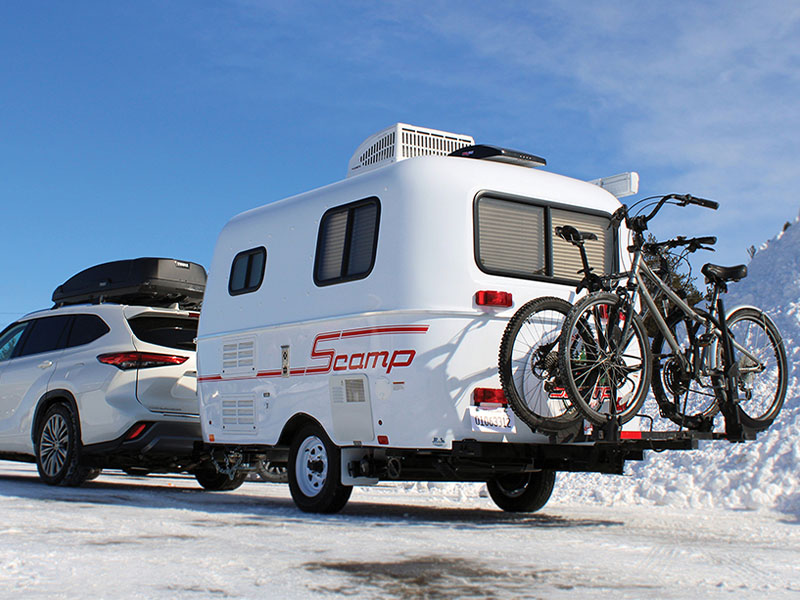 Durable
Sunshine, rain or even snow.
Hard-shell fiberglass bodies are built to withstand the elements.
Adaptable
All Scamp trailers can be outfitted with a bathroom, awning, furnace, hardwood interior, air conditioning and all the comforts.
Learn More
Travel Light
Lightweight Travel Trailers
Thousands of Scamp Trailers owners have logged millions of miles with the 13' Scamp small travel trailers that are durable, lightweight and aerodynamic. The lightweight, hard shell fiberglass travel trailer is durable, easy to tow, and maneuver. Scamp Trailers are designed to be towed by small cars, SUVs, mini vans, and trucks. The unique aerodynamic design assures high fuel efficiency.
The Right Fit
Perfect Small Campers
Scamp lightweight travel trailers can't be beat for a convenient, fun camping experience. Call upon our experts to discuss whether our small, lightweight 13' travel trailer is right for you or our mid-size 16' towable camping trailer with side dinette would fit the bill. And if you need even more room, our largest 19' 5th wheel travel trailers would be perfect. Our 19' trailers can be towed with a Ranger or Tacoma size pickups. Compare a Scamp to any other fiberglass camper and you'll find, for the money, nothing comes close to a Scamp Trailer.